ALUMNI
LIU Alumni Association aims to solidify the university's legacy and brand loyalty by maintaining relationships with our Alumni starting from their moment of graduation. This bond would create future opportunities like a network of advocates and future.
Join the LIU alumni association link : https://forms.gle/uBxR4hefQSDKgbcV8


Last Academic year :

SUCCESS STORIES :
Lotus Massoud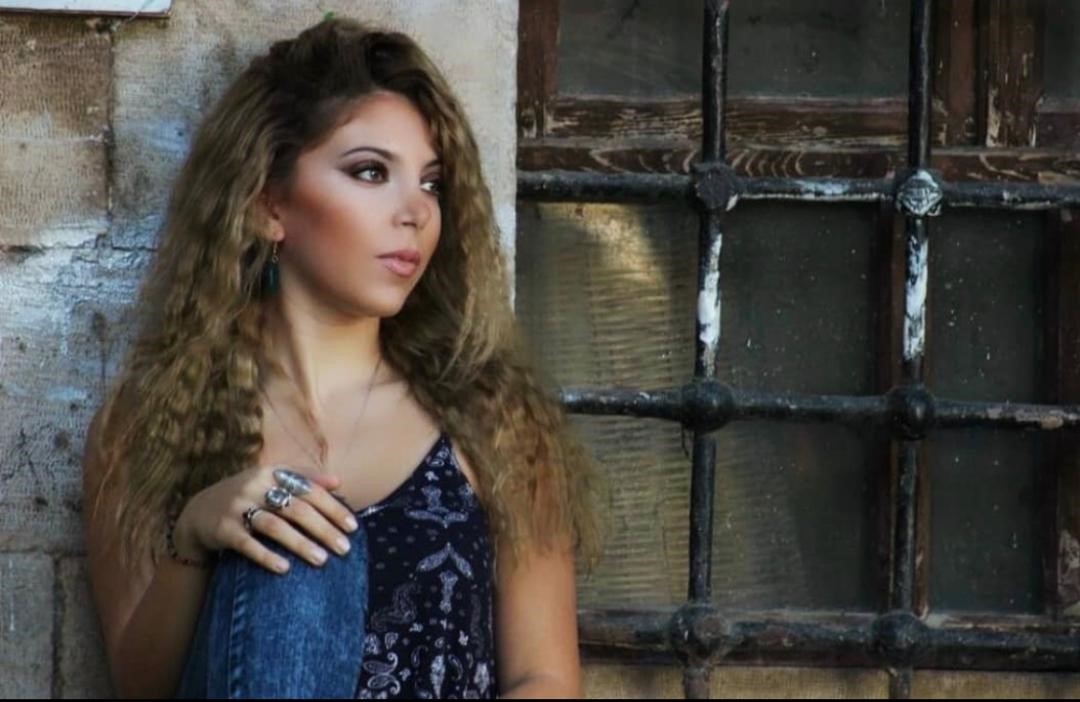 Pairing Between Journalism, Theatre and Cinema
Lotus Massoud, from a college student to a well-known writer and presenter Translated by : Fatima Dirani
"I wasn't expecting my first play "Kaeno Masrah" that I worked on with my father after my return from Lebanon to Syria to achieve this success", Lotus has proved herself with this accomplishment after having regrets going back and not be able to find a successful opportunity in journalism.

It was a dreary time, I felt like a failure and I didn't know if I can move on. Our case was similar to all Syrians' cases who didn't know whether they are going back or not.

My father suggested that I start, and my brother, studying a new major since things in Syria weren't getting any better. Lotus started her studies in 2013 and graduated in 2017 with honor.

While studying, Lotus loved the scientific materials and participated in every project. She wanted to be in charge of the main tasks within each group. Her relationship with her instructors remained till now as she talks about them with passion. "I still remember my instructors and I constantly communicate with them. They were very supportive and generous, and they endorsed me as a foreign student."

Doha Nabha, Lotus' best friend, confirms Lotus' determination for excellence during and after the university. "Although she is a shy person in life but that is not the case when it comes to her study or work."

"Everyone advised me to stay in Lebanon and find a job opportunity, but my craving to Syria pushed me to go back. I couldn't stay away longer than my education years so I graduated and went back right after".

The journey of self-proof began when Lotus went back to her birthplace. The lack of adequate opportunities in Media didn't stop her to preserve in finding alternative solutions, and the solution was her true passion, the theatre.

"I was writing scenes and dialogues, and put them away hoping that one day they will get born out". Those attempts have taken the form of "Kaeno Masrah" in late 2017, early 2018 and made headlines because of the unprecedented and huge public interest that appeared at Al-Hamra theatre where the play was performed.

A paradigm shift in Syrian advertising
Lotus and Sadeer Massoud are two sides of the same coin; both work in the advertising business in Syria. Sadeer is Lotus' brother and he studied Radio and TV at the Lebanese International University as well. It was a turning point when he started getting offers to produce Syrian products' commercials. He worked on a new strategy to produce these commercials through writing a scenario for each one. For that reason, he asked Lotus to write these scenarios because he believed in her and therefor, this partnership was an added value to the advertising field in Syria and it changed its path to the best.

"Hawa Gharbi", the second play performed between 2019 and 2020 has recalled the success of "kaeno Masrah" and put Lotus in a position of trust as a young playwright. This play has seen a huge crowd at Al-Hamra theatre that is associated with the National theatre and the Syrian ministry of culture after a long period of absence.

TV experiences and new challenges
Lotus' first experience in media was in collaboration with the Syrian Academy for Media. They shot 62 episodes and chose not to air them. "I worked hard in the making of this program that I almost cried sometimes. But after all, it wasn't even aired due to production issues. "Honal Shabab" gave me my first practical experience in Media and this is the reason why I love talking about it".

Right after this experience, we started working on "AlMasrah Lana" program on Lana Plus TV that involves archiving the history of modern Syrian theatre. We were shooting and making interviews with the show makers, and I am so proud of this experience because the way it affected me. It opened doors for me in the media and the theatre field, my great passion.

"Syrian Talents", a talent show broadcasted on Sama TV that Lotus considers it as a unique experience in the program delivery in spite of the fact that she withdrew from presenting the final episodes due to many problems and difficulties.

On-Air presentation: a fresh start
"Wazir Al-Saada" is Lotus' first radio program experience. After "AlMasrah Lana", she got a new experience in radio presentation with "Melody FM", "I hosted a number of famous Syrian artists in music, acting, writing, directing… this experience lifted me up".

Lotus switched from evening presentation to morning presentation with the same broadcasting company. After the success she made with her first radio experience, "Wake Up" program afforded her the opportunity to coordinate TV spots and to deal with different dialogues and topics in various domains throughout the week.

World of cinema and drama
Lotus and Sadeer partnership started with Sadeer's first movie "Labor" written by Lotus and directed by Sadeer. The film won the mention award of the Oran Arab film in Algeria.

This partnership remained through the Syrian TV series "Kayd Majhoul" when there wasn't any prior agreement that she is going to be the drama therapist, but what happened during the shoot is that the key scenes needed to be reworded and some dialogues needed to be written. Her brother contacted her because he trusted in her writing competence and she agreed to go through this experience.

Lotus added directing to her writing skills and won two awards at the Prague festival, best film award and best director award for the short movie "Awal Yom".

Lotus Massoud went through a lot of challenges; studying in a foreign country, going back to Syria and starting self-assertion, and being the daughter of the artist/actor Mr. Ghassan Massoud.

Doha Nabha, Lotus' friend said, "no one at the university even knew that she is Ghassan Massoud's daughter until they notice her name. The instructors loved her for who she is and not because she is the daughter of someone's famous." She added, "She didn't rely once on her father's name, even her father didn't use his connections for their sake. In the business and when introducing any idea, he deals with them like anyone else. If he is convinced with it, he gives them all the support".

"I would like to introduce a different Syrian media project to justify the Syrian media in the Arab world. Regarding the theatre and the cinema, I'm persistent and I wouldn't stop".

"Believe in your dream and work hard for it. Be patient and diligent. Set your goals and don't worry about presumptions. Focus on your work", Lotus said addressed to young women and men.

Lotus Massoud is a model student who faced a lot of obstacles but didn't let them stop her from going after her ambition and achieving her goals.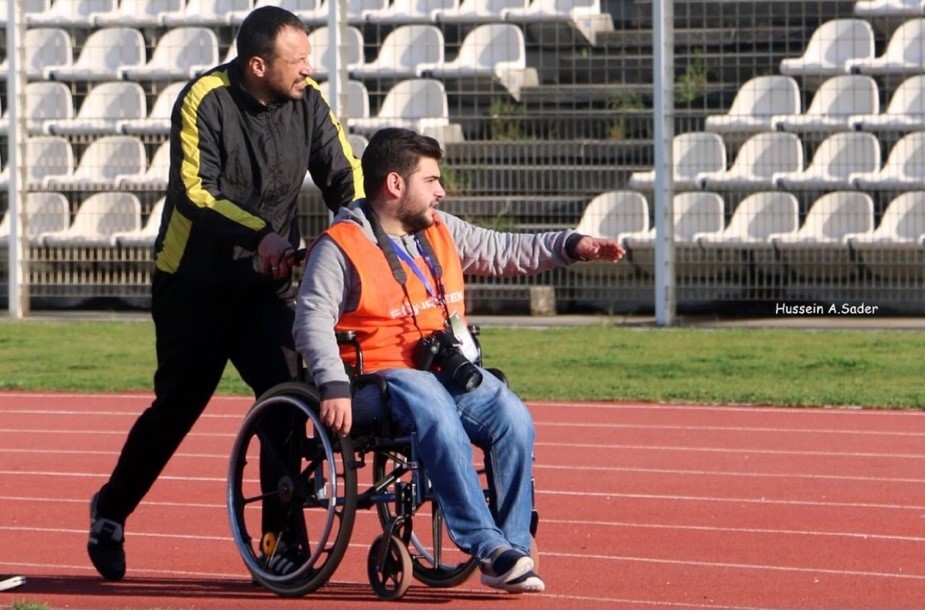 Hussein fought his wheelchair… and won!
Written by : Fatima Akhdar
Translated by : Fatima Shaaban
The fate of Hussein will be revealed in few minutes. While waiting for the results, his anxious father, Abou Mahmoud, was walking back and forth in the hospital's waiting room.

Om Mahmoud was sitting on the bench, holding both the Quran and the prayer book, and praying for her boy to emerge uninjured standing on his feet. Their son, Hussein, was in the operation room undergoing his first surgery in an attempt to walk again.

Hussein Amer's suffering began since his childhood when he was less than 5 years. First, the pain began in his feet, then it moved around and attacked every joint of his body. Two years later, he was diagnosed with rheumatism or rheumatic arthritis; a chronic and lifelong disease. With every passing day, the illness will destroy Hussein's joints.

Because rheumatic arthritis increases in cold weather, his health condition worsens during winter.

Here Hussein's pain journey began, from high fever and severe pain in his joints and feet.

Winter after winter, the boy went from bad to worse. At first, he was able to walk normally, then he started limping until he became paralyzed.

Hussein refused the idea of using a wheelchair, so his brother began to carry him on his shoulders to help him move around. On school days, the school guard was responsible for taking him to his class on the second floor.

On one of the first days of school, while Hussein was crossing the school's playground carried on the school guard's shoulders, younger students started laughing loudly at him, then they nodded growingly at him.

Hussein said: "That scene has etched on my mind".

On that very morning, he was sad and broken as if an explosion demolished his corners, and asked himself:" Why me?"

At that moment, the young man lost a part of him as if he had written on his heart: the real loss is being a painting that people nod to speak silently about it with pity and misery.

This scene has left a deep wound in Hussein's heart that will never be healed. This wound revives again each time this memory crosses his mind.

Hussein made his way to the class, and the first two classes passed.

Then … The bell rang and all the students prepared themselves to get rest in the playground, except Hussein. Unlike the people of his generation, Hussein is not able to come and go whenever he wants because going down the stairs will require him to commit efforts he can't handle.

In their free time, his friend "Jad" used to stay with him in class, this cheered Hussein's heart up. Jad never made Hussein feel that he wanted to leave him and play with the rest of his friends in the schoolyard.

Hussein never changed with days, he still decided not to use a wheelchair until he reached 14 years. Then, Hussein gave himself the choice either to wait for others' help and to be carried on their shoulders or to use a wheelchair. The situation was not easy as in the past, Hussein now became older and heavier.

He made his decision and decided to start using a wheelchair, challenging the physical disability, and proving that he can fight no matter the cost.

Hussein doesn't deny that using the wheelchair was hard at the beginning, then it became a part of him, and he considered it a way to socialize.

He kept reminding himself: "I am very engaged in society despite spending my life in a wheelchair. I have never given up!"

In the same year, Hussein underwent his first surgery, he thought it will be easy but it wasn't. The surgery consisted of inserting fifteen mental rods into his foot, each rod pierces the foot bones on one side and sticks out on the other.

One day after the surgery, he woke up terrified due to a huge puddle of blood that covered the entire mattress. He was very surprised by the frightening scene in front of him. His family contacted the specialist who didn't take responsibility for what happened. Without realization, Hussein was bleeding all night.

Because the surgery failed, Hussein stayed in his wheelchair until he graduated from University.

Impossible is uncommon to Hussein. The young man has never given up, and he has kept battling to achieve his goal. Before thinking of anything else, his target now is undergoing a series of surgeries.

What an unexpected coincidence! His left foot surgery was scheduled on the day he was waiting for too long, his graduation day! Hussein was an Information Technology (IT) student at Lebanese International University (LIU). While he was preparing all party supplies and buying his graduation clothes, his doctor called and told him that the surgery would be postponed for about 6 months if he didn't do it on the scheduled day. After thinking for hours, Hussein decided to undergo the protease, which is a joint replacement surgery. The prom remained a wound in Hussein's heart forever.

Although Hussein's healing was going slowly, he could stand on his feet. However, five months after the surgery, his left foot inflamed so the boy was obliged to undergo again the same surgery.

He couldn't stop thinking of walking again. Hussein stayed intent to realize the dream of his life, he was pretty sure of his inevitable victory, and unaware of all difficulties. Thus, for a whole year, he underwent many surgeries that caused him anxiety, panic, and pain. He was praying for a miracle that will help him to walk again.

Hussein said: "I fought with all my strength in this life, and I was ready for all types of challenges".

When he started healing, Hussein's bet was to regain standing on his feet and learn to walk again. This was not easy at all! For more than 20 years, Hussein was not able to walk. Now to reach his goal, he should learn to walk as if he is a child. Step by step, and with the help of a physiotherapist, Hussein practiced every movement starting from extending his foot, lifting and opening it.

Hussein went through harsh 20 years full of torments, treatments, and surgeries but he has never lost hope until his patient crowned by standing on his feet at the beginning of the year 2020. His life has completely changed! Hussein has won, and he proved that his capability of competing and achieving the impossible!

After being deprived of walking for several years, he was not able to express his happiness, and his heart was jumping for joy. He is completed now!

When Hussein was asked about the difference between his past and present, he answered: "For me, the only difference might be the time duration, nothing else has changes… I am the same optimistic, ambitious, and loving person…These feelings have never been related to a foot, a hand, or any part of the body.

The hope journey has begun!
Hussein's first work experience was in a family friend's clothes shop in his village, "Qana". He was responsible for doing Photoshop since he was familiar with it, but his knowledge was not enough. Hussein holds a bachelor's degree in Information Technology (IT) from LIU. Thanks to his love for learning, he mastered Photoshop techniques from YouTube. He started a new experience that taught him everything about digital marketing, and he worked also in accounting.

The young man had a great impact in doubling the store sales, this encouraged him to start his own business. After gaining and developing his skills for 1 years, he can provide e-marketing service to customers.

Hussein left his job in the clothes store and decided to take a risky new challenge that will be added to the health challenge he had been through for many years.

Confidently, he said: "My job challenge was starting a new business from nothing… I cannot accept my father opening an office for me nor buying me a car… Happiness occurs after fighting and getting what you worked hard for".

Hussein Amer (26 years old), is working now from his office in Tyre city. He finally realized the e-marketing project he worked hard on it from home, and it is represented by a company that offers several services such as graphics, web, and photography.

The ambitious Hussein does not stop dreaming, after winning over his tragedy, he believes that the human will makes miracles. Therefore, he is strongly attached to his country, and he is not willing to leave it. He ended by saying: "While all young people are thinking about leaving our beloved country "Lebanon" which is losing its youthful wealth… We are staying here despite everyone… Lebanon is ours!" His words are over, but hope never!

Duha Kharroub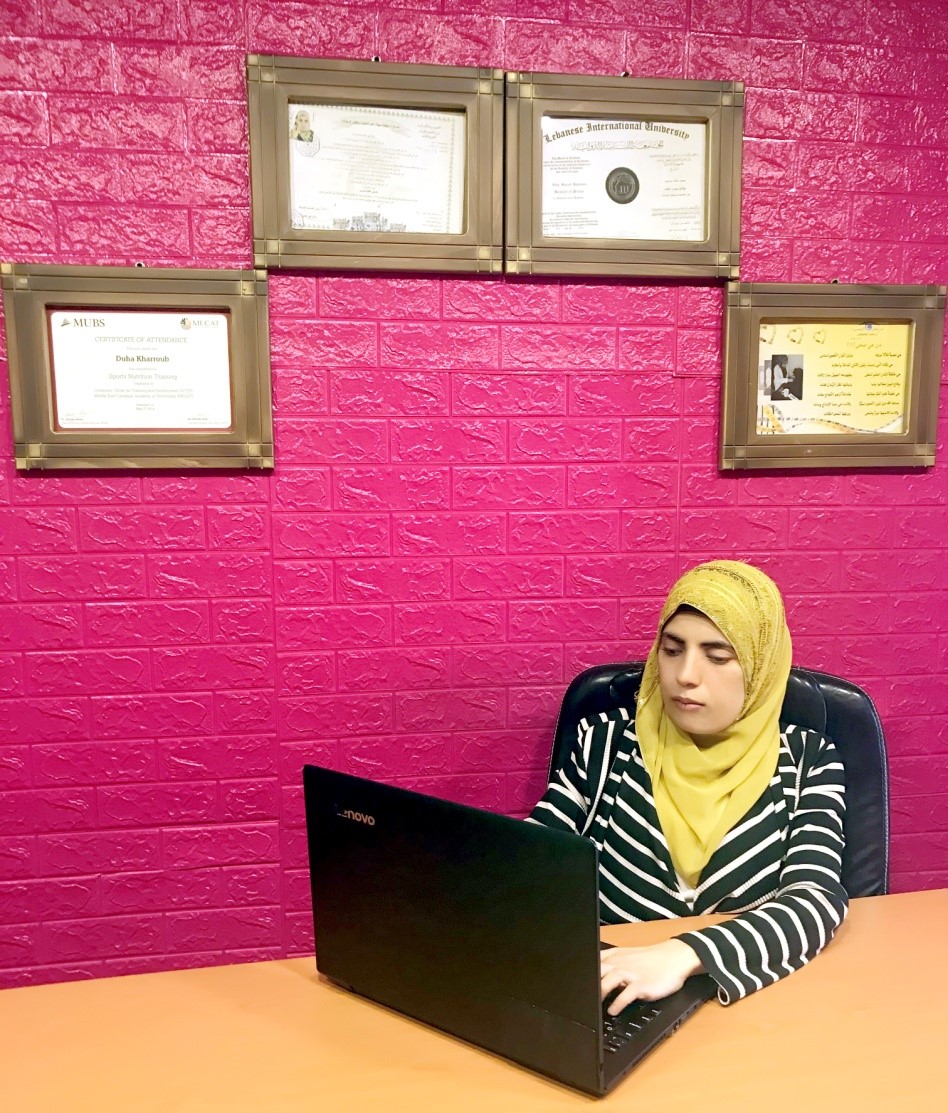 First blind dietitian in Lebanon
There is no elevator to success, you have to take the stairs. Despite the hard situations she went through, Duha has never given up. Persistence was her greatest key for a successful future. The deepest meaning of success is "Persistence". Written by : Sarah Hachem
Translated by : Fatima Shaaban
The first blind dietitian in Lebanon "Duha Khaled Kharroub" (29 years) is from Majdal Anjar village in Bekaa Governorate. It has been 13 years since she lost her vision due to a medical error. At first, her life became colorless and dark, yet this lasted for a short period, she quickly exceeded her plight and decided to face it. She picked up her white cane and pursued her education at a special school for the blind in Beirut. That school enabled her to deal with assistive technologies, then she graduated from "San Al Fil" secondary school. Duha chose the Life science branch in the 12th grade, she accepted the possibility of failure and insisted to take the official exams like the rest of the students. She did it! Duha was the first blind who underwent this experience, and graduated with distinction!

When the ambitious Duha came back home to Bekaa, she registered at the Lebanese International University, Al-Khyara branch, the only university that offers science majors in her area. She always dreamt of a bright future that's why she chose the dietetics major. Like the rest of the students, she underwent the entrance exam and passed. Then her university journey began. Duha really appreciates her second home and family; LIU with its administration and instructors. The university has welcomed many blind students, Duha was the first one. Moreover, she mentioned that the university was dealing carefully with their special case, it provided the students with many methods that made the learning process easier such as e-books, a tutor for reading when needed, and other methods. "Don't hesitate to tell us if you needed anything, we will provide everything", Duha used to hear this sentence from the administration over and over. Also, she appreciates Mr. Abdul Rahim Mrad for giving her a full scholarship.

After a long education journey, Duha, the first blind dietitian in Lebanon, opened her own nutrition clinic after passing the colloquium. In addition to that, she earned an athletic training certificate from IFPA (The International Federation of Professional Aromatherapists). Moreover, Duha works in the "Enaya Medical Center" in Kherbet Rouha in the region of Bekaa, and she is a radio presenter on Fajr and Al-Azhar radios. Because of her obsession with helping people, Duha trains many blind people, and gives lectures in many organizations and clubs. Moreover, she is a volunteer in blind's centers, and a dietitian in many gyms. Besides her strong passion in her job, Duha has many talents such as writing, she participated in many competitions, and she won the second place award for the Asian Confederation with her article "Reaching the blind's independence". Last but not least, Duha is pursuing her master's degree at her second home, LIU.

Despite her great achievements, Duha hasn't yet realized her goal, it's just the beginning. This ambitious student and doctor aspires to have a TV show besides her radio program, and because of her passion for writing stories and novels, she wants to publish nutrition books and in other fields. Also, she is aiming to own a center for healthy food and training.

Since her 16, Duha knew that people with special cases are not incapable, their society is. She doesn't cry anymore when someone looks with pity upon her because she knows how poor her society is. Disability and success are two parallel lines.

Students should get inspired by Duha so they can work hard in order to achieve their dreams and realize their goals. In life, power is related to the sword and the pen. The pen is mightier than the sword. Sword's importance will fade with time and the power of pen will win. However, hope and determination are always needed to achieve success.